Colder-than-normal weather is expected to batter the U.S. over the course of the next 10 days.
An Arctic blast is moving eastward, and cold air is collecting from higher-than-average snowfall in Alaska and Canada. The blast has started to merge into the lower 48 states. Northwestern states have already been subjected to frigid temperatures, with parts of Idaho and Wyoming experiencing temperatures more than 20 degrees colder than normal, and the cold is expected to grow even more brutal as the blast fully enters the country next week.
The extremely cold air will hit Montana first next Wednesday and continue to move southeast. It will take roughly two days before it reaches Texas, and the lengthy swath of cold air will remain in the northern states as well.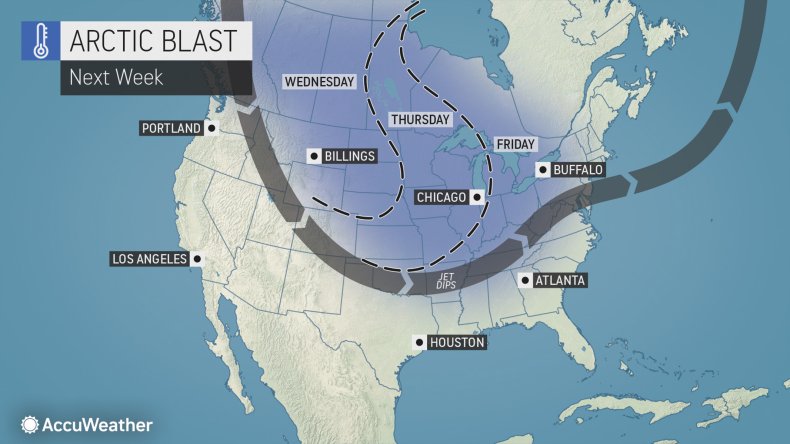 The uncharacteristic frigid temperatures have some Texans worried whether the power grid will be able to withstand the high demand. In February of 2021, three severe winter storms crippled the Texas power grid, pushing electricity offline for millions for several days as power organizations worked to remedy the issue. The Electric Reliability Council of Texas (ERCOT) declined an interview with Newsweek but said it is "monitoring the forecast and models closely."
"[ERCOT] will deploy all available tools to manage the grid reliably," ERCOT said in an email. "ERCOT expects sufficient generation to meet forecasted demand at this time."
Texas will experience the uncharacteristic cold air for only a few nights, according to AccuWeather chief meteorologist Jonathan Porter. It is not likely that the extreme cold will be accompanied by snow or ice, meaning the power grid has a better chance of persevering. Although any extreme cold is a test to the Texas power grid, Porter said the shorter timeframe of cold likely won't stress the grid as much as in February of 2021. However, he warned people to be prepared.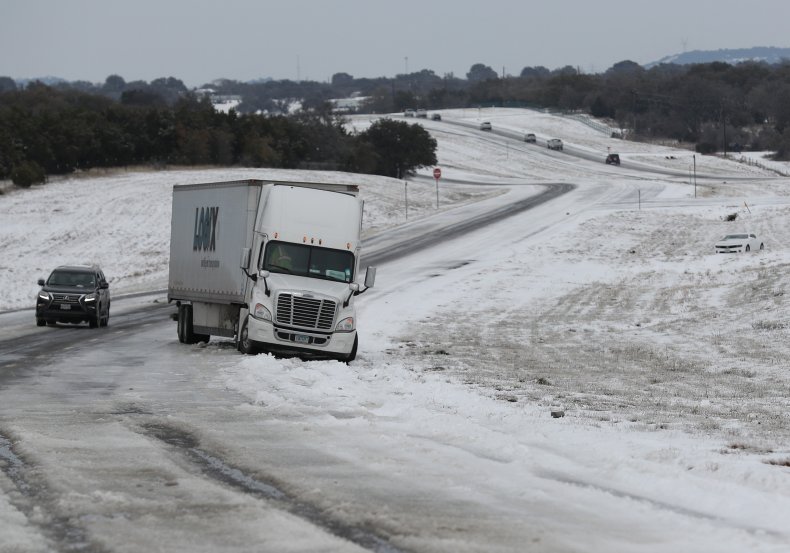 One forecast predicts that the Texas' panhandle and north-central cities in the state will receive the worst of the cold blast, with temperatures falling as far as 30 degrees below normal. Average low December temperatures in Texas range from low to middle 30s to 50, according to Current Results, a weather and science website. Some areas might plunge into single digits.
"It's going to be a notable change for Dallas and Fort Worth," Porter told Newsweek. "They have been running considerably above average in terms of temperatures, so dealing with this is going to be a big change."
The stretch will last much longer in the northern states. According to a forecast model tweeted by meteorologist Brad Panovich this week, by the time the cold air reaches Texas next Friday, northern Plains states will have experienced the Arctic blast for nearly a week and won't see temperatures rise until Christmas or the day after.
Montana, Wyoming, North Dakota and South Dakota will be hit the hardest. Some areas could experience temperatures more than 50 degrees lower than average. Porter said that could mean minus 35 to minus 40 degrees, potentially record-breaking cold in the Dakotas, Colorado and Wyoming.
As the blast moves eastward, it should lose some potency once it hits Illinois. Central Illinois could experience temperatures as much as 36 degrees below normal, which could send temperatures below 0 as average lows are in the 20s. States east of Illinois will still feel the chill, with the forecast predicting Florida to see temperatures as much as 30 degrees below average for late December, subjecting the area to temperatures in the teens and 20s.
The blast is bookended by two warm periods, with slightly warmer-than-normal temperatures moving eastward from the Pacific Northwest beginning two days after Christmas.