December 26 2022
Monday Morning Report
That now infamous Bomb Cyclone brought us the coldest Christmas Eve in 130 years, tying the record low afternoon in Baltimore at 20ºF not seen since 1892.  Since then, we have slowly turned the corner to trend upward. 
A clipper system is bringing snow to the MidWest, but it looks like after hitting western Maryland, it will fall apart.
White Christmas Across The US
(In case you missed what I posted on my Facebook page)
Headlines
Morning: Still Cold Today
Mid Week Warming

 

New Year Weekend: Rain Storm Both Days
Most of the eastern half of the US is still under the influence of this arctic cold. It even brought show showers to central Florida, but the main event has been in Buffalo. As of Christmas afternoon they had 43 inches of new snow.  A fresh band of heavy snow has reached them this morning, which may help bring them to a final total close to 6 Ft.
This storm has already resulted in 13 people dying in Buffalo. Here is a sample of what it has looked like there:
Lake Effect Snow in Buffalo:
Zero Visibility 
What is amazing, is that daily routine goes on, such as this store remaining open with business traffic.
ZERO visibility in this snow band. Textbook blizzard conditions right now over the eastern suburbs of Buffalo. #NYwx @weather_buffalo pic.twitter.com/WYZqgmyNq7

— BuffaloSnowKing (@BuffaloSnowKing) December 23, 2022
Bills Fans Clearing Cars Christmas Eve
This is the reward they get…
The Buffalo Bills came back from their game in Chicago to find their cars buried under snow 😳❄️
pic.twitter.com/gtW1t67rQj

— Daily Loud (@DailyLoud) December 26, 2022
That is a 7 FOOT SNOW DRIFT
Climbed a 7' snow drift on Abbott Road South Buffalo in front of Ko-Ed Candy. The Great Buffalo Christmas Blizzard roars on for a second straight night! #NYwx @weather_buffalo @ReedTimmerAccu pic.twitter.com/suTvfXOpQs

— BuffaloSnowKing (@BuffaloSnowKing) December 25, 2022
Weather Across The Nation
The clipper I mentioned a few days ago looks impressive on the map, but this is a MidWest thing. It will mostly bring just clouds east of the mountains.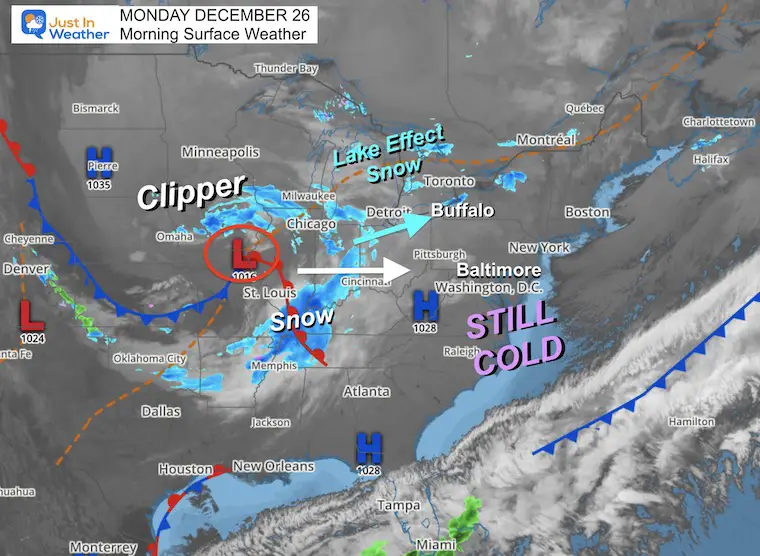 Temperatures This Morning
Still freezing all the way to northern Florida this morning. Even Miami is down to 50ºF.
The 20s have reached Houston and Nashville, Charlotte into the teens.  Basically, it is still cold! But we are turning the corner.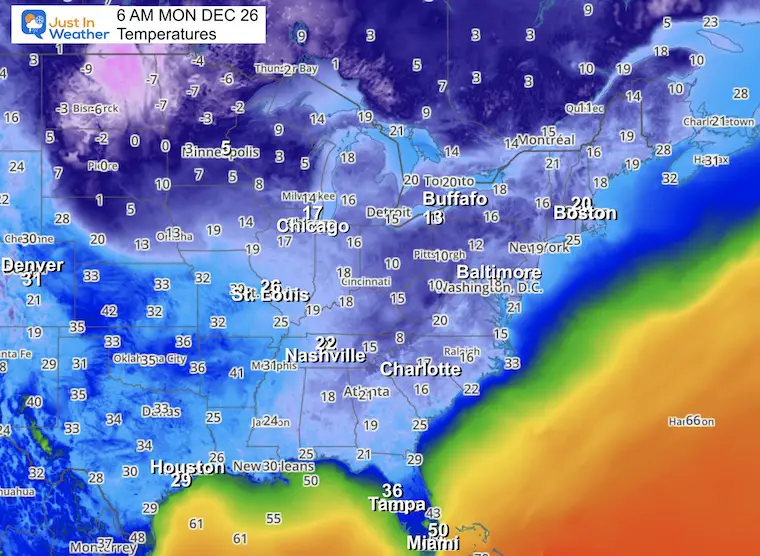 Clipper Snow Simulation
Showers for western Maryland, but only clouds expected east of the mountains.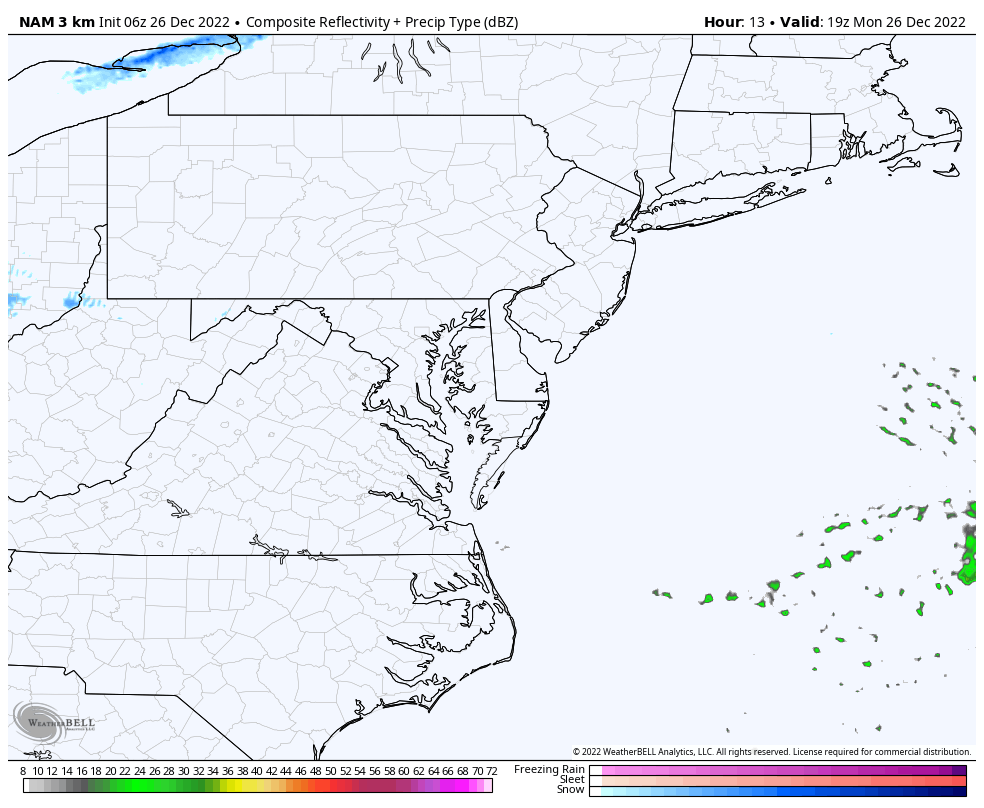 Morning Local Temperatures
Still very cold with teens reported all the way to Ocean City.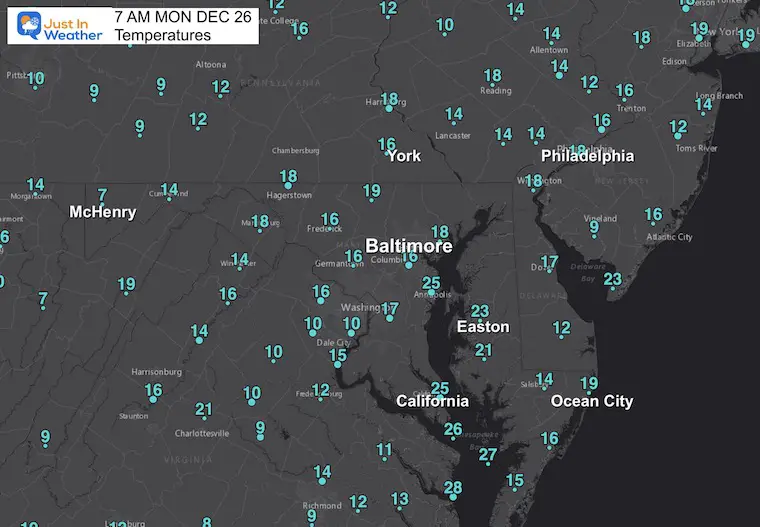 3 PM Temperatures
Back toner Freezing for Baltimore. Still in the 20s and teens inland.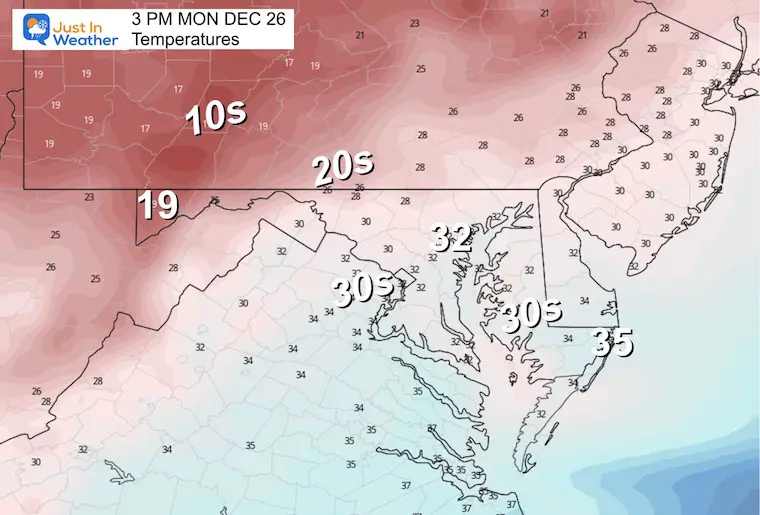 Subscribe for eMail Alerts
Weather posts straight to your inbox
Sign up and be the first to know!
CLIMATE DATA
TODAY December 26
Normal Low in Baltimore:  28ºF
Record 2ºF in 1983
SNOW: 4.4" 1933
Normal High in Baltimore: 45ºF
Record 73ºF 1964
Tuesday
Morning
Not as cold as it has been. These numbers in the morning will be warmer than it was during the afternoons over the weekend for most of us.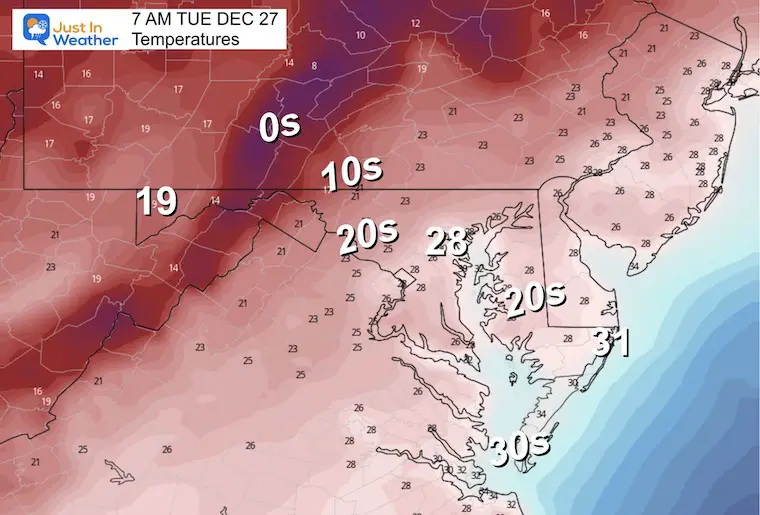 Afternoon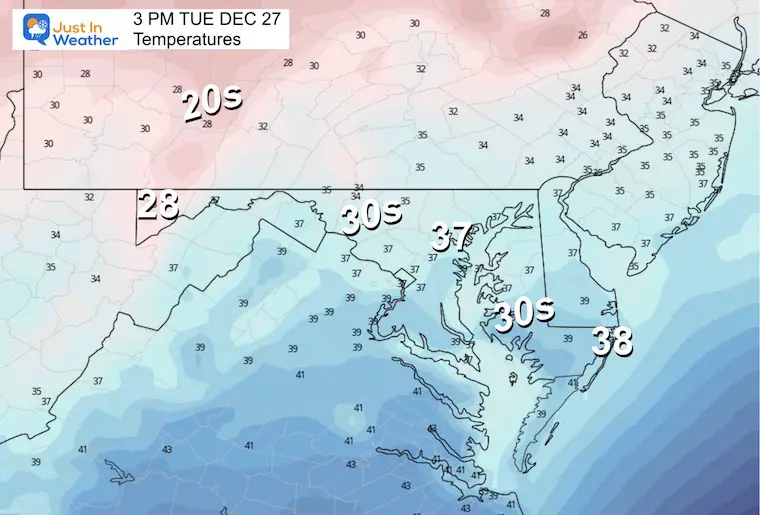 Next Storm: New Year Weekend
Friday Morning To Sunday Afternoon
A moderate rain event is expected Saturday into Sunday. This may push temps into the mid to upper 50s on Sunday
Extended Look: Jet Stream
This longer loop extends to January 8. We can see the start with cold (blue) in the eastern US, then warming with our next storm, which may last through the first week of January. 
The next suggestion of colder air and a storm will show up by January 8 into the middle of the month.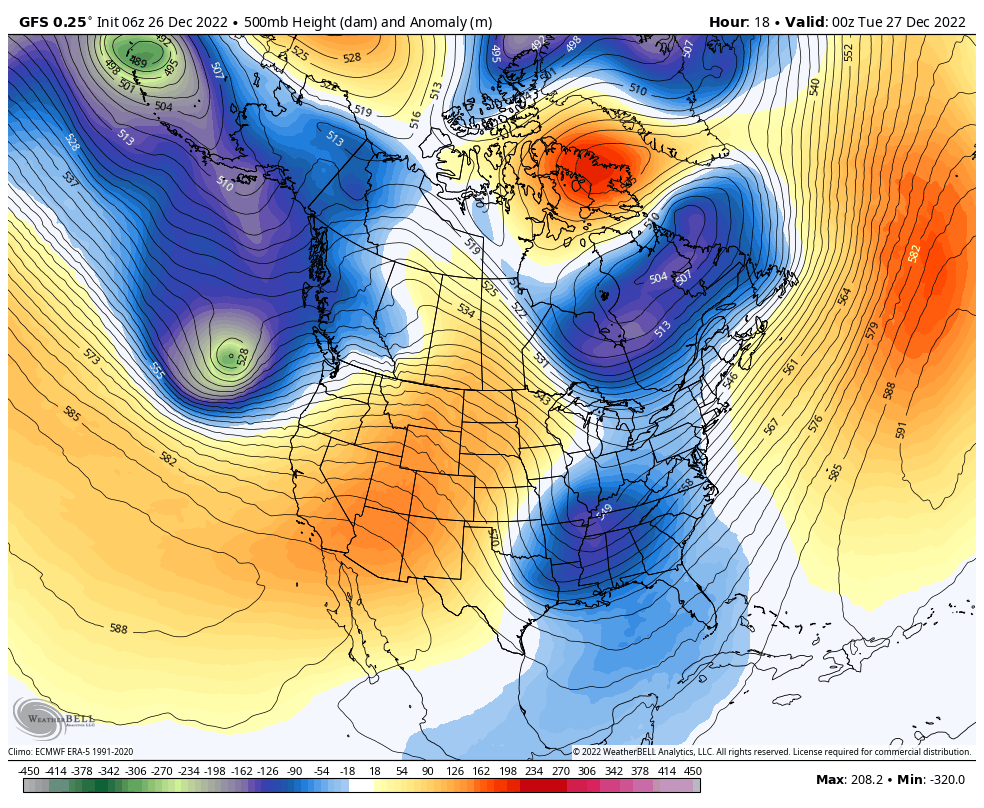 My thoughts:
A large variation of record cold to warmth, shows a highly amplified and energized jet stream. There is more to be shown and winter is just getting started. Like last year, I believe it will get very active here in January and February. Faith in the Flakes. 
7 Day Forecast
Warming up with the storm next weekend.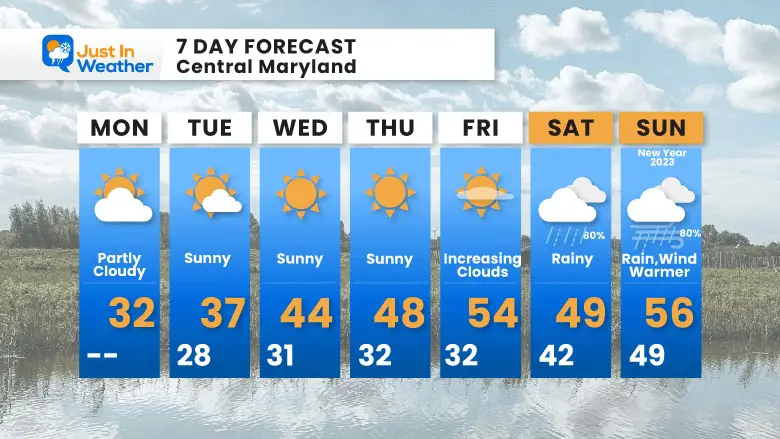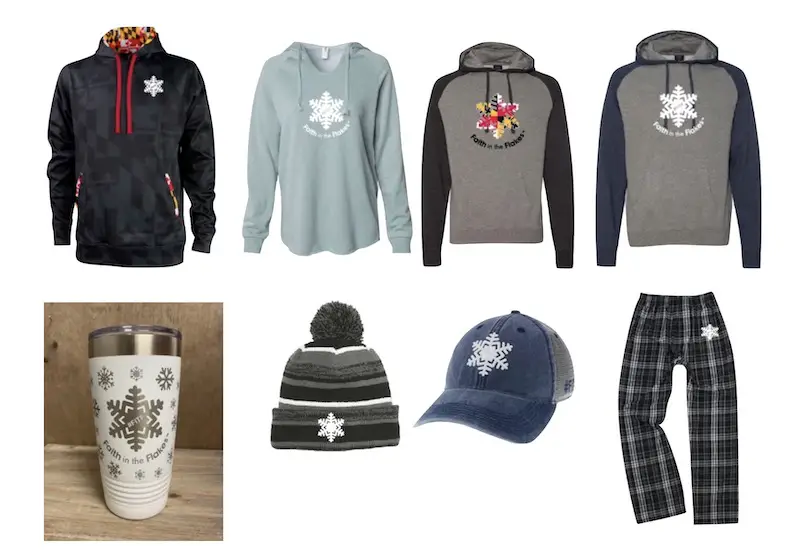 What is Faith in the Flakes?
It began with my son in 2009
December 5th Snow In Baltimore And The Start Of Faith In The Flakes FITF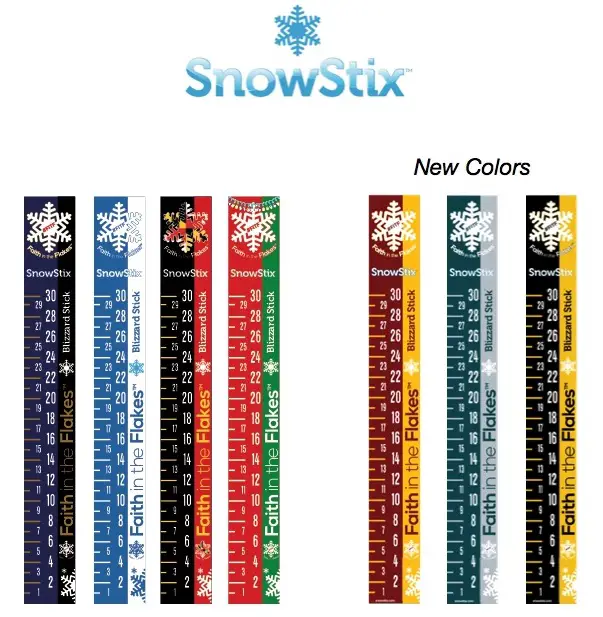 STEM Assemblies/In School Fields Trips Are Back
Click to see more and 'Book' a visit to your school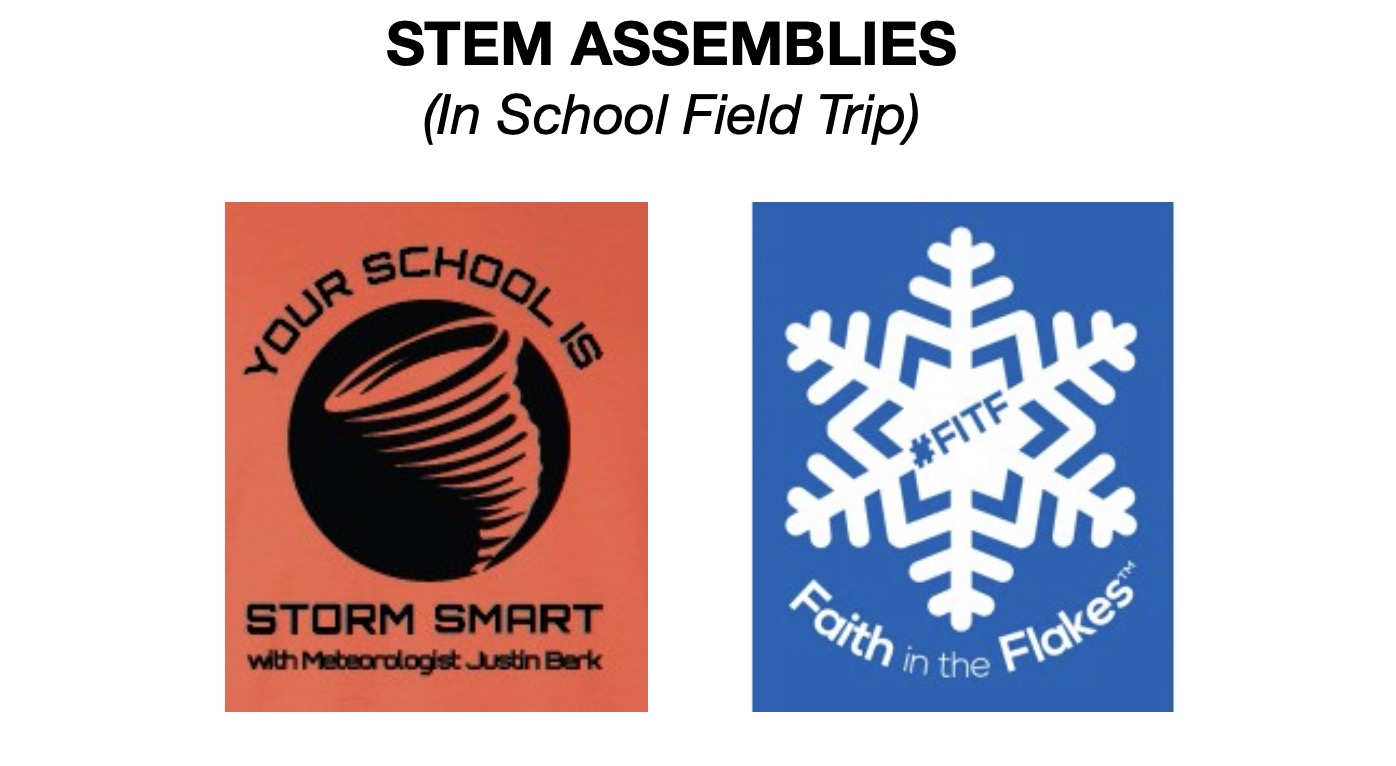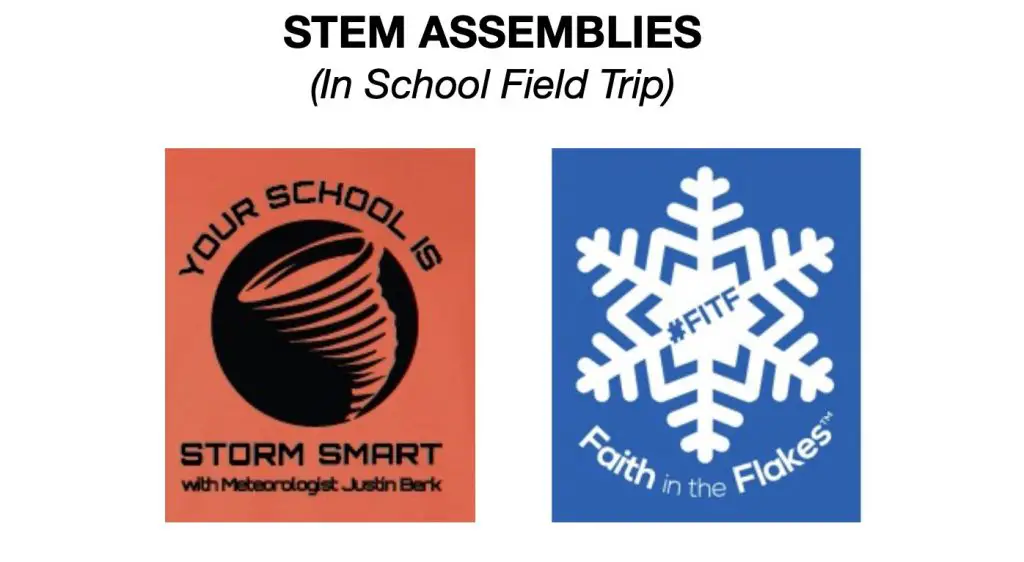 My Winter Outlook: Not A Typical La Niña!
I see many factors to support colder influence with multiple systems. Early and later in winter. Check it out.
Winter Outlook 2023 For Snow Not Typical La Niña Plus Polar Vortex Disruption
Also See The Winter Outlook Series:
Atmospheric Memory Suggests Active Winter Storm Pattern Outlook
Winter Outlook 2023 From NOAA Very Different Than Farmers Almanacs
Farmer's Almanac Comparison
Winter Outlook 2023 Early Look At Snow From Two Farmers Almanacs
Triple Dip La Niña Winter
CONNECTION TO WINTER?
If you want a snowy winter, this is what you might want to look for in the rest of the tropical season. (You might be seeing a lot of commercial snow removal people out this Winter).
Record August For No Named Tropical Storms: Closer Look At Snow Following
Wooly Bear Caterpillars
Persimmon Seeds
Click to see Top 20 and MORE
Winter Weather Folklore Top 20 And More Outlook Signals From Nature For Cold And Snow
Normals And Records: Maryland and Baltimore Climate History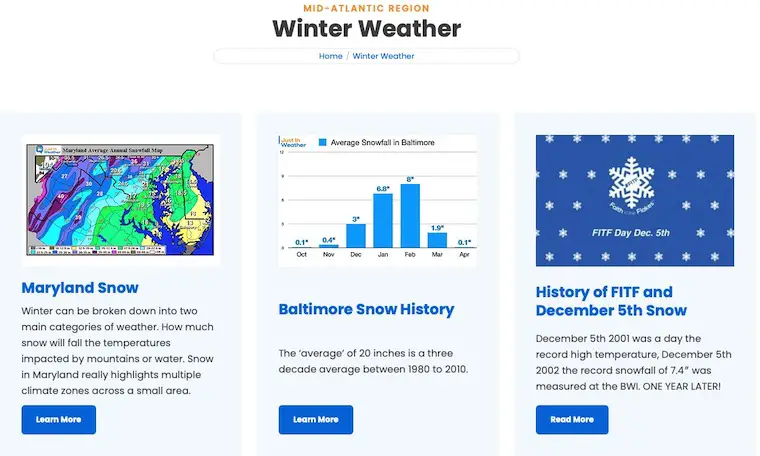 Please share your thoughts, best weather pics/videos, or just keep in touch via social media