ORLANDO, Fla. – The arctic blast that is covering much of the nation this week leading up to Christmas weekend isn't sparing the traditional winter repellant of Florida either.
As the cold air pushes into the Sunshine State this weekend, Santa might wonder if Rudolph had steered him astray.
Low temperatures Sunday morning are expected in the 30s across North and Central Florida, with high temperatures only managing to claw their way into the 50s.
For several towns and cities in Florida and the Southeast, it will likely be one of the coldest – if not the all-time coldest – Christmas Days on record, threatening the records set during the chilly Christmases of 1989 and 1983.
FLORIDA MAY SEE COLDEST CHRISTMAS IN OVER 30 YEARS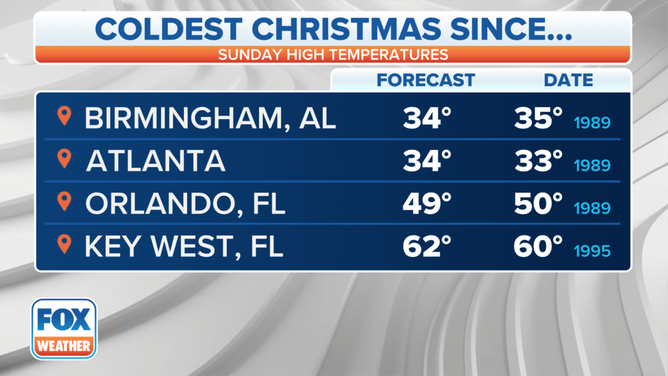 Atlanta's projected high Sunday of 34 degrees would be the chilliest Christmas since 1989, while Birmingham, Alabama's projected 34-degree high would be its coldest Christmas since a 35-degree high in 1989.
Hopefully Santa remembered to get out his winter wetsuit because Cocoa Beach's Christmas Eve tradition, Surfing Santas may feel more like a polar plunge this year.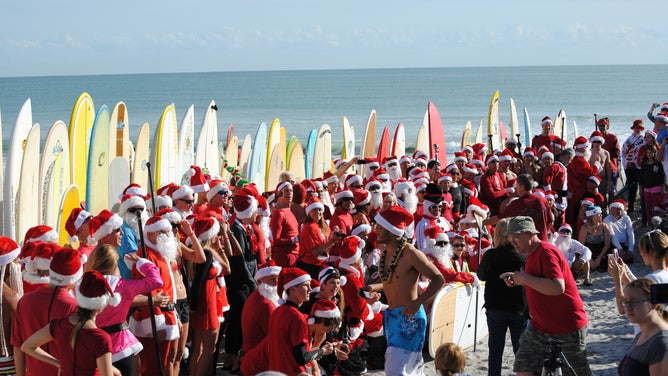 Surfers dressed as Santas, elves or Mrs. Claus will paddle out in 40-degree temperatures for the annual event that draws thousands. The high temperature is forecast to barely warm to 50 degrees on Christmas Eve in Cocoa Beach.
Most of east-central Florida will experience near- or below-freezing temperatures with wind chills in the 20s, beginning Friday night and continuing each night through Christmas weekend.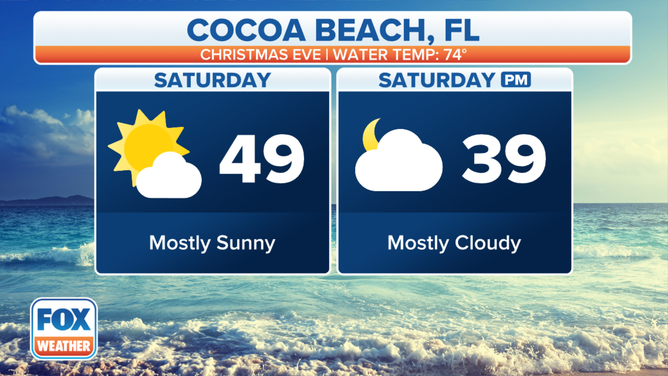 Lakeland, Florida's current projected high temperature of 48 on Christmas would break the current record-cold high of 49 set in 1983. Winter Haven – aptly named this season – is also currently projected to break its lowest high-temperature record at 50 degrees, besting the 1989 record by 3 degrees. 
7 WAYS TO PREVENT FROZEN WATER PIPES IN BITTERLY COLD TEMPERATURES
What about Orlando? With an expected high of 50 on Sunday, it would rank in the top-10 coldest Christmas Days and the coldest since the 1989 arctic outbreak. 
But it's a far cry from their record. The high temperature on Christmas Day in 1983 only reached 36 degrees in Orlando, after a morning low of 21 tied for the coldest day on record for any date.  Dec. 25, 1983, was quite the day across much of Florida, with a high of 38 in Tampa and 29 in Jacksonville.
In Southwest Florida, Punta Gorda is forecast to break its Christmas Day record chill by 3 degrees (53 is forecast vs. the 56-degree record).
Sarasota is forecast to tie its record of 51 while even farther south, Vero Beach is only expected to reach 58 degrees – within 5 degrees of its record-coldest high temperature. Tampa will likely notch a top-5 coldest Christmas Day with an expected high of 54.
Will it be cold enough for falling iguanas in Miami?
When South Florida temperatures drop below 50 degrees, the Miami National Weather Service office issues a unique warning for "falling iguanas" in the forecast.
Iguanas are cold-blooded, and when the temperatures drop, the normally tropical reptiles slow and can become cold-stunned. If they happen to be in a tree or some brush, which is where they like to hang out, they might fall during their cold-stunned slumber.
A falling iguana forecast does not happen often.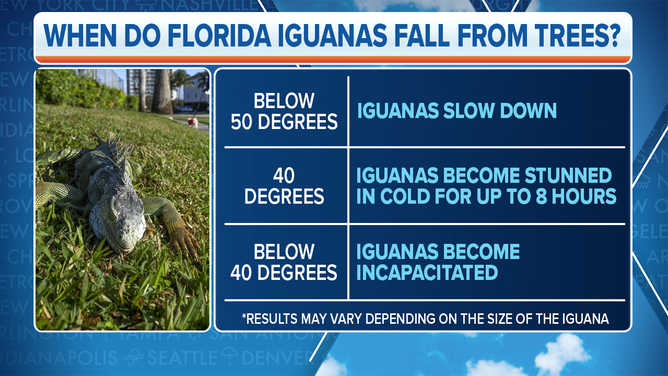 Zoo Miami Communications Director Ron Magill previously told FOX Weather that temperatures need to be below 50 degrees constantly to slow an iguana considerably.
Temperatures are forecast to fall into the mid-40s on Friday night and Saturday night for the Miami metro area. The chill will remain through Christmas Day with highs in the upper 50s.
These sustained cold temperatures below 50 degrees could result in a few incapacitated iguanas lying about until they warm up.