The first of what will likely be many winter weather alerts are in effect from Texas to Indiana as a winter storm threatens rain and snow before it continues on its eastward trek across the country, eventually making it into the Northeast.
The FOX Forecast Center says the action will kick off Tuesday across parts of the Texas Panhandle as the developing storm gathers strength.
"This is not a historic storm, but we are going to see some of this snow placing a little farther south than what we have seen with past storms," FOX Weather meteorologist Britta Merwin said. "If you live in Amarillo and Lubbock, we're expecting that snow to really start overnight tonight."
By midday Tuesday, the core of the storm system is expected to be over the Dallas area, with snow expected to fall to the north across the majority of Oklahoma.
"Now, looking at Dallas, it does look to be all rain until we get to the back side of this low," Merwin said. "This is going to be a transfer that happens Tuesday night. So, the entire day tomorrow is rain for Dallas. But Tuesday night, a quick shot of snow."
The snow totals in Dallas won't amount to much, Merwin said, but it is likely to fall across an area that doesn't typically see snow too often.
Little Rock, Arkansas, will also see a changeover from rain to snow as the storm system spins off to the northeast on Wednesday.
Snowfall could reach 5-8 inches in a few areas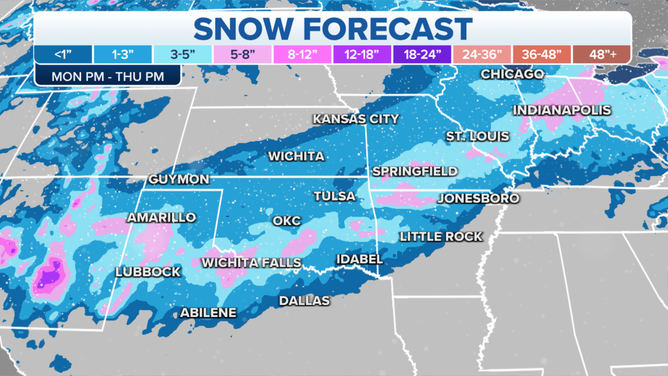 The FOX Forecast Center says there are areas of central Indiana, Arkansas, Oklahoma and Texas that could pick up between 5-8 inches of snow, but lower amounts are expected elsewhere.
"The majority of the folks that stretch from New Mexico through North Texas, all the way through Missouri into the Midwest, will pick up about 3-5 inches," Merwin said.
Oklahoma City and Springfield, Missouri, can expect to see between 1-3 inches of snow. St. Louis can expect about 3 inches, while places like Indianapolis can pick up 5-8 inches of snow.
After the storm crosses from Texas into portions of the Midwest, the Northeast is expected to get in on the action.
South could see another severe weather outbreak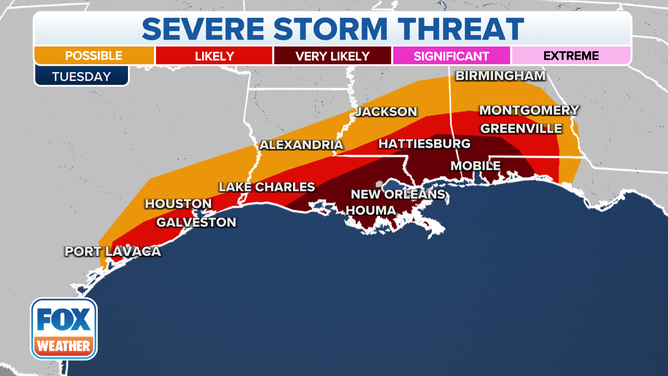 On the warm side of the winter storm, parts of the storm-fatigued South are in the bull's-eye for yet another severe weather threat on Tuesday and Wednesday.
Severe weather is possible near the mid- and upper Texas coast Tuesday afternoon before spreading eastward Tuesday night into parts of southeastern Louisiana, Mississippi, southwestern Alabama and the western Florida Panhandle.
According to the FOX Forecast Center, these storms will be capable of damaging wind gusts and tornadoes, a few of which could be EF-2 or stronger.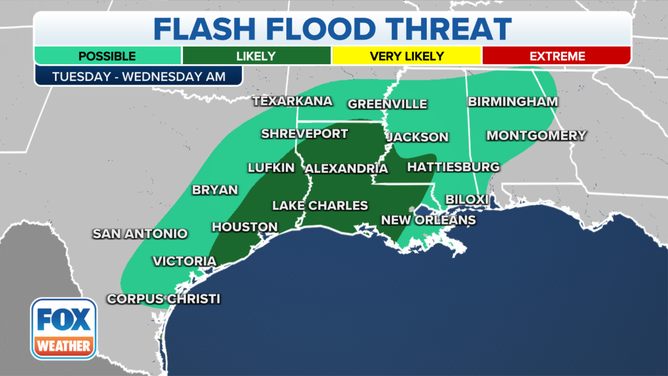 The National Weather Service says there is a risk of flooding from parts of eastern Texas, including Houston, to south-central Mississippi where rainfall totals could exceed two inches in some areas.
SEVERE STORMS COULD SPAWN STRONG TORNADOES TUESDAY IN SOUTH, INCLUDING NEW ORLEANS METRO
Will the winter storm end the Northeast's snowless streak?
There's one point on the map that is often key in determining who will see snow and who will see rain when a storm moves across the Northeast.
"There is a very popular benchmark that we watch as meteorologists," Merwin said. "And when we have a coastal low that crosses over 40 degrees north and 70 degrees west, that tends to be the optimal position for the cold air and the moisture to meet up to make beautiful white stuff over the 95 corridor."
This storm that will impact the region late Wednesday night and Thursday morning will be a close call.
NEW YORK CITY HAS LACKED SNOW SO FAR THIS WINTER, BUT LATE-SEASON STORMS CAN CRIPPLE THE BIG APPLE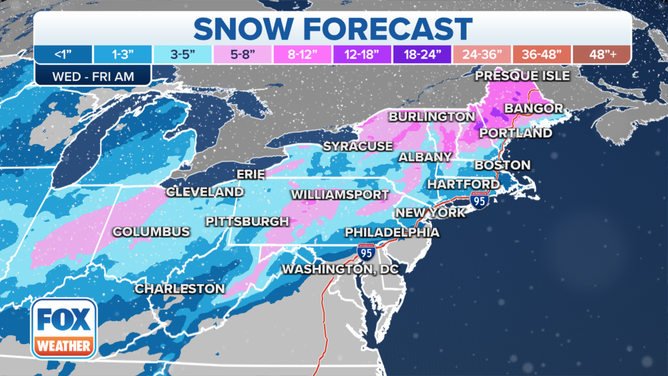 Plowable snow will likely impact travel across northern New England and the interior Northeast, while another deluge of cold rain along the coast from Boston through Providence, Rhode Island, New Haven, Connecticut, New York City and Philadelphia.
New York City hasn't seen measurable snow since last March.
In order for snowfall to be called measurable, at least one-tenth of an inch of snow needs to fall.
The Big Apple picked up 0.4 inches of snow on March 9, 2022. Since then, the city has seen a snow drought. The record for the latest first snow on record for New York City was set on Jan. 29, 1973.
Now, all eyes are on the storm at the end of this week to see if the city receives its first measurable snowfall of the season.
Stay with FOX Weather and download the free FOX Weather app to receive important updates to any potential change in the forecast.